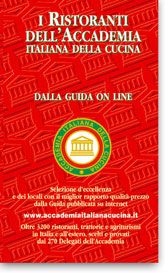 Since 1961 the Accademia edits a guide to Italy's restaurants, which, since 1986, has acquired a yearly regularity.
The title "I ristoranti dell'Accademia" ("The Accademia's Restaurants") was not chosen casually, for the publication constitutes a rather original guide, which is absolutely unique in its genre. Its uniqueness derives from the fact that the guide is the fruit of the scrupulousness, attention, interest and experience of approximately two hundred of the Accademia's Delegates, who, by means of the continuous supervision of the public table, succeed in providing a useful and, as far as possible, complete overview of the condition of cuisine in Italy and in the world. And the academic spirit, fervid and disinterested, steers research towards those establishments and operators who care for the survival of the true, authentic Italian tradition.
The guide presents the descriptions and evaluations of 3.000 restaurants in Italy. It even includes a selection of Italian restaurants in many countries all over the world where the regional or local table is presented with noteworthy genuineness and professionalism, and with a hospitality which honours Italian cuisine.
From January 2006 it is no longer necessary to buy the Guidebook in a book shop; the full list of restaurants, updated in real time, can now be consulted online. Just click on the link, find the restaurant (in Italian) according to whatever criteria you are interested in: country/region, city, evaluation, price etc. All information is provided in Italian.