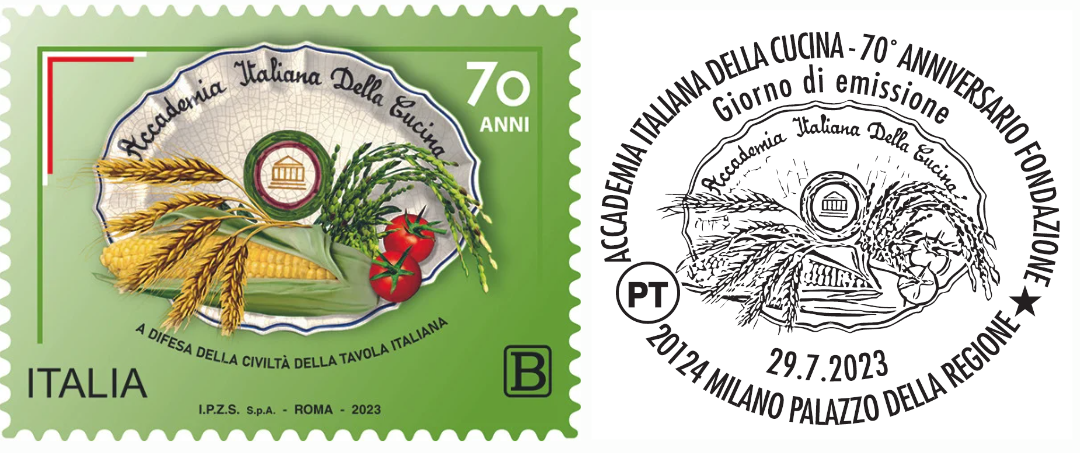 Part of the series on 'Italy's artistic and cultural heritage', the stamp issued by the Ministry of Enterprises and Made in Italy, dedicated to the Italian Academy of Cuisine on its 70th anniversary, is in value category B, and thus worth 1.25 euros. It depicts various cereals and two tomatoes, typical elements in Italian cuisine, in the foreground, on a dish bearing at its centre the logo of the ItalianAcademy of Cuisine, whose name appears above. The stamp is completed by the phrases 'DEFENDING ITALIAN FOOD CULTURE' and '70 YEARS'.
A postmark for the first day of issue will be available for 60 days at the philatelic window of the post office in the Palazzo della Regione (the seat of the Lombardy regional government) in Milan. The stamp and its associated collectors' items – postcards, collection cards and explanatory material – will be available from post offices with a philatelic window, the 'Spazio Filatelia' stamp-collecting centres in Florence, Genoa, Milan, Naples, Rome, Rome 1, Turin, Trieste, Venice and Verona, and the website filatelia.poste.it.
A collectors' triptytch folder in A4 format has also been created for the occasion, containing a block of four stamps, a single stamp, a stamped and postmarked postcard, a 'first issue day' envelope and the official explanatory card.