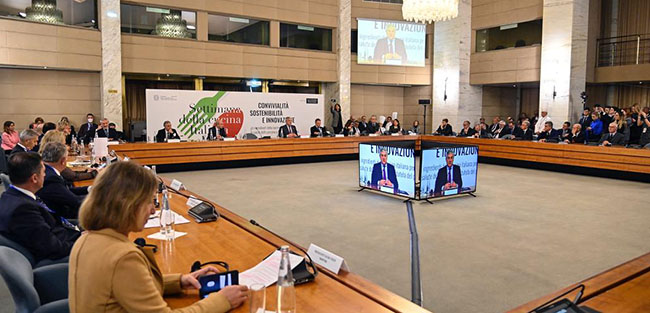 The seventh edition of the Week of Italian Cuisine in the World was presented in the Foreign Ministry's headquarters at the Farnesina Palace on 18 November. This year its theme is "Conviviality, sustainability and innovation: Italian ingredients for healthy people on a healthy planet".
The event was opened by Ambassador Lorenzo Angeloni. Speakers included Deputy Prime Minister and Foreign Minister Antonio Tajani; Minister of Economic Development Adolfo Urso; Minister of Agriculture Francesco Lollobrigida; Minister of Health Orazio Schillaci; and Minister of Tourism Daniela Santanchè, demonstrating the entire governmental team's interest in how Italian cuisine can benefit the country as a whole.
After their speeches, Maddalena Fossati, Director of the magazine La Cucina Italiana (Italian Cuisine), moderated the round table "Convivium: a promoter of health, sustainability and progress".
The Academy was represented by Secretary-General Roberto Ariani and President's Council member Alessandro di Giovanni, who conversed with Counsellor Andrea Canepari on the progress of collaborative projects currently under way.