150 Years of Menus for 15 Heads of State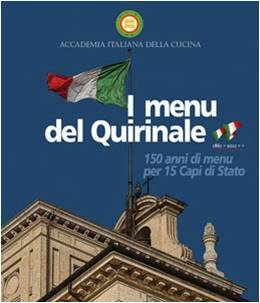 From King Victor Emmanuel II to Giorgio Napolitano, the work constitutes a broad retrospective of the habits and customs of Italian heads of state though 250 unpublished royal and presidential menus collected by Academicians Maurizio Campiverdi (primarily), Domenico Musci, Franco Chiarini and Giovanni Chiriotti, along with menus and information furnished by the Historical Archive of the Presidency of the Italian Republic.
Silent protagonists of the socio-historical evolution of gastronomic civilization, eloquent witness to people, events and many convivial occasions that characterized the socio-political life of the Italian State, the menus constitute an indispensible document and a tool for understanding the tastes of a given time period.  The collection enables us to follow culinary evolution through different ways of preparing food and is a vast mosaic of the unique habits, customs and traditions of a nation. 
This original publication is a contribution by Italian Academy of Cuisine (a Cultural Institution of the Republic of Italy) to the celebration of 150 years of Italian unity

Napolitano: A Worthy Initiative by the Academy

In his forward, Italian President Giorgio Napolitano writes: "Employing a rich and picturesque collection of the official menus of the Quirinale Palace since 1861, this book illustrates the evolution of the Italian table and examines the gastronomic culture and the customs of official protocol.  Documents of real cultural and historical value, the menus describe the progressive evolution of reference points in post-unification sophisticated Italian cuisine, contrasted by great culinary diversity deriving from the country's varied geography and centuries of socio-political fragmentation.   These menus also constitute elegant testimonials to the numerous political and cultural events that were held in the halls of the Quirinale over a century and a half, as well as to the professionalism and dedication that characterize the services at the Palace today as in the early days of unification."

Ballarini: An Indelible Testimony to the History of a Nation

"The collection of menus from official Italian State banquets during the first 150 years of Italian unification", states Giovanni Ballarini, President of the Italian Academy of Cuisine, "is a testimony to the role played by sophisticated official Italian cuisine in the Italian national identity.  The menus paint an unpublished portrait of the culinary inclinations and customs of four Italian kings and eleven presidents."   Ballarini continues, "With this book we have tried to make an important cultural contribution to the collective historical memory of our country by examining past and recent official occasions and documenting them through the elegant and artistic menus that lend themselves to diverse social interpretations touching on subjects as diverse as language, tableware, food preparation and the use of typical Italian food products."